Services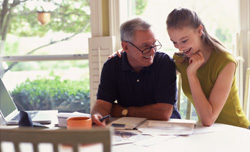 Portfolio Building – With the right asset allocation, we can help develop an investment strategy that balances potential risk and return by diversifying your assets across several investment categories. We'll take into account your risk tolerance, liquidity needs, as well as your short and long-term goals. Offering traditional brokerage accounts, portfolio management, we have an investment platform suited specifically to me your investment objectives.
FDIC products - If you are looking to invest in CDs, treasuries, and other income investments, We provide a wide spectrum that may be suitable for you without you having to price shop at the area banks.
Retirement Planning – If you are planning for a secure retirement, we can help you evaluate all of your existing retirement plans including pensions, 401(k)s, and assets to run retirement projections based on various scenarios. We offer SEP, Simple, IRA, and Roth IRA as well as investment vehicles outside the IRA umbrella. It is never to early to start planning for retirement.
Alternative Investments -
Can help protect your future by diversifying your investments and reducing correlation throughout your portfolio. It may be beneficial to invest in opportunities that perform independently of one another so they don't cancel each other's performance out. Alternatives can help solve that problem.
Reit, Corporate non traded bond, Gold and Silver (individual and qualified assets). Non traded Preferred Stock portfolios. Income producing or reinvestment.
IRA/401(K)/403(B)/TSA Rollover - Tax Deferred Retirement Programs
You may have existing accounts registered as an IRA, 401(k), or Tax-Sheltered Annuity. These Accounts should be reviewed to make sure they are achieving your goals and objectives. We are able to evaluate these programs to determine if they meet your current needs. If they do not, we are then able to make recommendations as to what alternative may suit you better.
We specialize in Rollovers. Let us help you "Simplify and Consolidate" your accounts.
College Funding – We can help you choose the right savings and investment vehicles, including 529 plans, to develop the best plan available for financing and education.
Estate planning for continuing your legacy the way you see fit by working closely with your estate attorney and your CPA.